Nicolas Cannasse's speech at the world wide Haxe conference WWX2015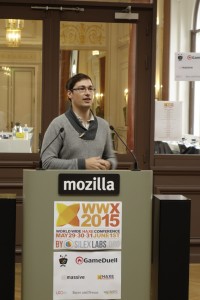 Nicolas Cannasse is the original creator of the Haxe language and he is now directing Haxe Foundation. He is also the Co-founder of Shiro Games and a Game Developer.
Evoland 2 is a brand new game created by Shiro Games, involving both 2D and 3D graphics, and entirely written in Haxe. In his speech "The Tech behind Evoland 2", Nicolas Cannasse presents Evoland 2 and introduces some technologies that were used to develop the game, and which are all available as open source, as well as the workflow the team of 9 people used to build the game.
Watch the video:
Nicolas Cannasse on stage The Tech behind Evoland 2 #wwx2015 @silexlabs @haxelang #haxe @mozilla paris 🙂 pic.twitter.com/lUXdBJv8ad

— Sébastien Mugnier (@smugnier) May 31, 2015
Evoland 2 is now available on Steam, GoG and the Humble Store! Have fun! http://t.co/UkKUybKpks pic.twitter.com/cGwaO7tZey

— Shiro Games (@shirogames) August 25, 2015
Here is a quick preview of the #Evoland2 Artbook! #games #indiedev pic.twitter.com/UnSUYrJjZI

— Shiro Games (@shirogames) August 14, 2015