Stat-is-stuck
12 June 2009
Depuis le 1er juin, Silex est POTM (Project Of The Month) sur Sourceforge, ce qui a permis au nombre de visites et au nombre de téléchargements de doubler. Mais depuis mardi dernier, le 9 juin, on a carrément triplé le nombre de downloads…
[caption id="attachment_690" align="alignnone" width="650" caption="statistics of downloads for the last 2 months"]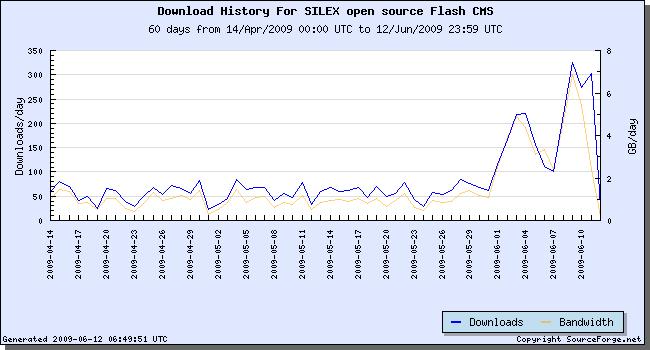 [/caption]
Depuis le 1er juin (01/06/09 - 11/06/09)
4 855 visiteurs uniques dont 1 161 venant de Sourceforge.
887 venant de la page principale du projet,
171 de la page screenshot.
5 visiteurs seulement ont suivi le lien de l'article.
Le lien vers l'annonce June Project of the Month qui est sur la page d'accueil de Sourceforge en est la 1ere cause d'augmentation des stats.
Mais il y a un "booster" de downloads ! Il s'agit de l'article qui est directement sur la page d'accueil depuis le mardi 9 juin
Il comporte notre petite accroche "Silex is a WYSIWYG editor to build Flash based websites, using a mixture of editing and wiki based software", un lien vers l'article June 2009 Project of the Month et un lien direct
Les downloads
| | | |
| --- | --- | --- |
| Date | Rank | Downloads |
| 11 Jun 2009 | 58 | 302 |
| 10 Jun 2009 | 82 | 273 |
| 09 Jun 2009 | 68 | 325 |
[caption id="attachment_685" align="alignnone" width="650" caption="stats download"]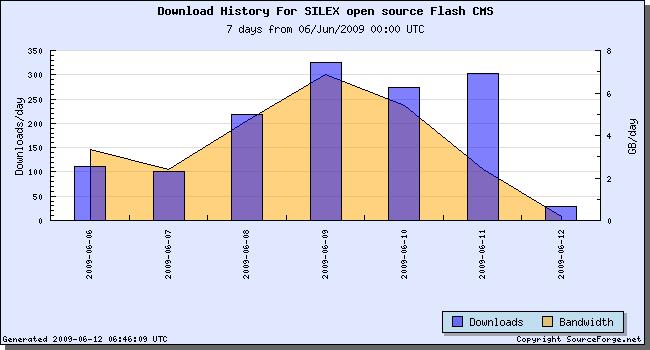 [/caption]
Les visites
| | |
| --- | --- |
| Date | Visites |
| 11 Jun 2009 | 489 |
| 10 Jun 2009 | 525 |
| 09 Jun 2009 | 612 |
| 8 Jun 2009 | 425 |
| 7 Jun 2009 | 230 |
| 6 Jun 2009 | 239 |
| 5 Jun 2009 | 407 |
| 4 Jun 2009 | 705 |
---