Silex SEO Plugin
01 June 2012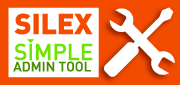 Description
This plugin adds the possiblity to generate SEO (Search Engine Optimization) informations for a silex site in some specific cases.
Normal cases are already taken care of by Silex.
It is specifically designed for these cases:
when different pages (or deeplinks) share the same layer (useful for multiple languages contexts).
when dynamic content is used. In that case the seo plugin should be run regularly.
This includes:
accessors resolving
Oof selector children resolving and parsing
Silex natively takes care of the following cases, when you are saving the layers via the Wysiwyg:
only one deeplink is used per layer
html compatible components (text, images, label buttons…)
Example provided !!!
This plugin is provided with an example publication named "test_seo_plugin" so you can easily try this functionality.
Installation
To install this plugin on a silex server, use the manager's plugin installer (exchange platform), or copy the plugin folder in the silex_server/plugins folder.
Activation
This plugin has to be activated at publication level.
Specific publication activation: In the server's manager go to "Manage", click on the publication on which the plugin should be activated, then click on "Plugins > Activate a plugin", and finally click on the plugin icon and then on "confirm".
Use
To generate seo information for all layers of the publication: -In the server's manager go to "Manage", click on the publication for which the seo should be generated, then click on "Generate Seo".
-The plugin will update the /silex_server/contents/site_id/*.seodata.xml files contents.
-As a result, the sitemap of the site (accessible here: /silex_server/sitemap.php?id_site=site_id) will be updated.
It can be useful to check the sitemap before and after running the SEO generation process.
Parameters
None
Content
The snapshot plugin folder contains several files:
index.php

contains the php needed to load the plugin.

directories

hx

contains the PHP seo project generated with Haxe

lang

contains the translations files
Sources
They can be found on following subversion