David Mouton's speech at the world wide Haxe conference WWX2015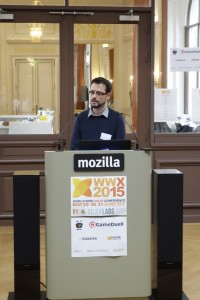 David Mouton is CTO at Happy Technologies. He is originally a design director and professor, and gradually switched into software engineering and became Happy Technologies CTO. Thanks to a 15 years experience in web app conception, he gives his support to application architecture problems and development choices. He also manages the development team, promoting agile practices, industrialization and continuous improvement. Convinced by knowledge sharing and open source development, he commits himself with various community activities. He is co-founder of the TTFX digital community and « Code of War » creator.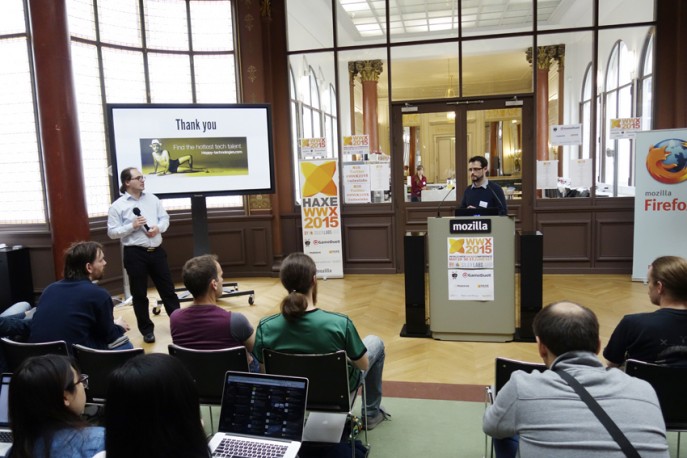 David Mouton presents "NPM, Haxe at the heart of Javascript ecosystem". Javascript ecosystem for web app development is well implanted and NPM is at the centre of it. Coffeescript and Typescript are perfectly integrated and have offered a real alternative to full Javascript development. For almost a year now, Haxe has constituted a third alternative in this ecosystem.
In his talk David explains why Haxe is a very relevant option. He introduces its current state of integration, fonctionning and evolutions to come.
focus : web applications development
https://www.npmjs.com/package/haxelib
https://www.npmjs.com/~haxelib.js
slides of "NPM, Haxe at the heart of Javascript ecosystem"
Watch the video:
My slides about NPM and Haxe :http://t.co/YmpNExqPCQ#wwx2015

— David Mouton (@damoebius) June 1, 2015
I learned a lot, met some great people, thank you for everything#wwx2015 @silexlabs

— David Mouton (@damoebius) May 31, 2015
Toute l'équipe #HappyTech heureuse d'avoir participé au #wwx2015 avec @damoebius merci à toutes les oreilles attentives !

— Happy_technologies (@agence_happy) June 1, 2015
Haxelib.js is now on NPM. You can now add any new lib by yourself. https://t.co/fcHKSETVIK#haxe cc @skial

— David Mouton (@damoebius) July 24, 2015
haxe-watchify (1.2.0): https://t.co/8TFK9FRY4F automatic build tool for your Haxe and OpenFL projects. It monitors the ch…

— npm tweets (@nodenpm) July 22, 2015