Lars Doucet's speech at the world wide Haxe conference WWX2015
Lars Doucet is the co-founder of Level Up Labs, LLC, developer of the popular game Defender's Quest: Valley of the Forgotten. Lars contributes regularly to Haxe projects, most especially OpenFL and HaxeFlixel. His most popular libraries are flixel-ui, HaxeFlixel's official UI toolkit,  firetongue, a localization framework, and crashdumper, an automated crash logging utility. Lars is a dual citizen of Norway and the USA, has a Master's degree in Visualization Sciences from Texas A&M University, and lives in Bryan, Texas, with his wife Emily and their daughter.
Github: http://www.github.com/larsiusprime
Twitter: @larsiusprime
Blog: http://www.fortressofdoors.com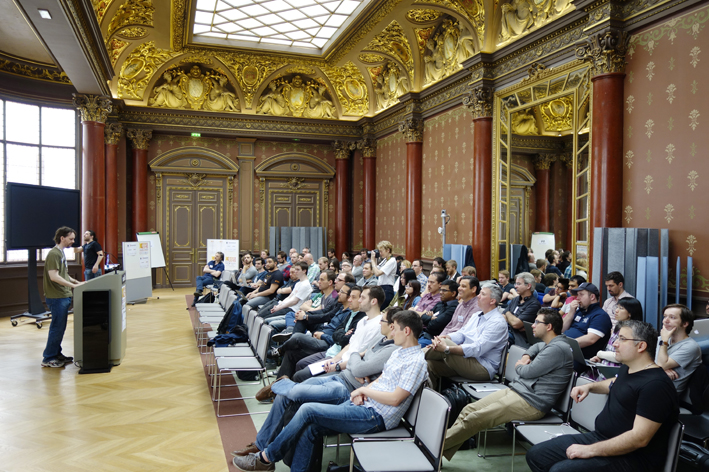 Lars Doucet presents « Lime/OpenFL for home game consoles »
Announcing a cross-platform, home game console backend for Lime/OpenFL. This will bring compatibility for WiiU, XBox One, PS4, PSVita, 3DS, etc.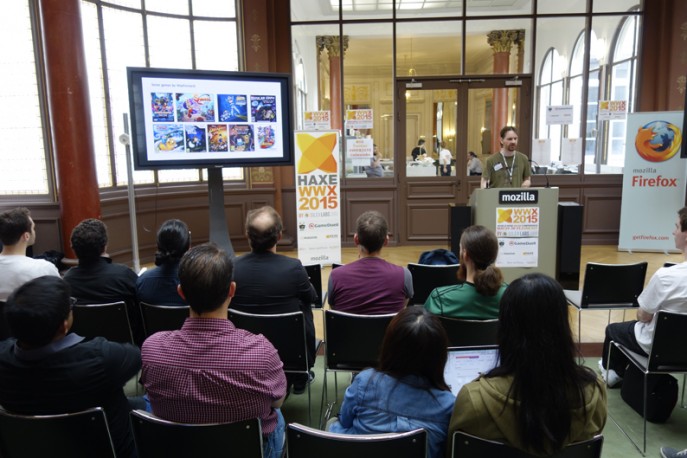 Talk's description:
Traditionally, developers wanting to port a PC game to consoles would hire a dedicated team to re-write the game for that platform, usually costing tens of thousands of dollars, minimum. Why can't it be as easy as exporting your existing Haxe app to mac or linux? Let's fix that.
The three developers behind Papers Please, Yummy Circus, and Defender's Quest have partnered with OpenFL and an experienced console game development studio to build a console backend for the Lime/OpenFL stack. OpenFL has added many targets in the past, everything from Linux to Blackberry, but consoles are another matter. They use special hardware and custom software stacks – you can't just write an OpenGL app on desktop and assume it will « just work » on a console. Furthermore, to even start working you need an expensive Devkit and must sign an NDA.
In his talk Lars Doucet shares how they solved both the technical and the legal challenges of this undertaking, as well as their plans for making the new OpenFL console targets widely available. This talk is primary interest to Lime and OpenFL users who want to publish games or apps for consoles and handhelds, but give also valuable information for users and developers of other Haxe frameworks who want to add console compatibility.
Watch the video:
RT: Haxe/OpenFL for home game consoles. (Slides/Talk fulltext) #WWX2015 #Haxe #OpenFLhttp://t.co/INEwJcZd3H pic.twitter.com/yLwWIln4rq

— f'(Lars Doucet) (@larsiusprime) June 3, 2015
Starting my talk about OpenFL/Lime on home game consoles in about 15 minutes.#HoldOntoYourButts #WWX2015

— f'(Lars Doucet) (@larsiusprime) May 31, 2015
Big thanks to @mozilla, @silexlabs, @Open_FL and @haxe_org for making my talk possible!http://t.co/INEwJcZd3H pic.twitter.com/v2xW5csNKw

— f'(Lars Doucet) (@larsiusprime) June 3, 2015
Soon! #wwx2015 pic.twitter.com/NtwMW6yV31

— Valentin Lemière (@ibilon) May 31, 2015
RT: Video of Haxe/OpenFL "PiratePig" stock demo running natively on a WiiU. https://t.co/kV5j2iwCMW#WWX2015 #Haxe #OpenFL

— f'(Lars Doucet) (@larsiusprime) June 3, 2015
@Open_FL console support #wwx2015 pic.twitter.com/e1nM0GblE3

— Khaled Garbaya (@khaled_garbaya) May 31, 2015
Let´s All begin #wwx2015 taking about OPENfl @Mozilla Paris @silexlabs @haxelang pic.twitter.com/iSvXkH19Ct

— Sébastien Mugnier (@smugnier) May 31, 2015
Lars' level of energy is amazing! Makes me wanna cheer! #wwx2015 pic.twitter.com/Lwlbgvh97T

— josefiene pertosa (@Fiene_P) May 31, 2015
#wwx2015 on a rainny Sunday @Mozilla Paris, Haxers are All very awake @silexlabs @haxelang pic.twitter.com/WSg7iRDBGo

— Sébastien Mugnier (@smugnier) May 31, 2015
Great talk, @larsiusprime ! #wwx2015

— Jonas Nyström (@cambiatajonas) May 31, 2015
#WWX2015 I really want to thank everyone at @silexlabs and @haxe_org for a great conference. I feel really positive working with them.

— f'(Lars Doucet) (@larsiusprime) June 3, 2015