Nickolay Grebenshikov's speech at the world wide Haxe conference WWX2015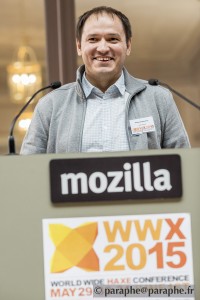 Nickolay Grebenshikov is a head of the Abakan development center of Lanit Tercom in Russia. He started working as a programmer in 2000, making web sites using PHP. All his professional career is related to the Internet, especially to the Web. Haxe apperead in his life in 2008, when he was part of comapping.com team working for the russian outsource company Lanit Tercom. After that he moved to the Microsoft stack and developed the web systems using silverlight and .NET MVC. Now his main responsibility is keeping the Abakan office working and make people happy inside.
He also works on several open source projects – https://github.com/ngrebenshikov. Especially Jive, (a cross-platform UI based on AsWing) and  openfl-snapsvg (an OpenFL HTML5 backend based on Adobe's Snap.SVG library)
Nickolay Grebenshikov – GitHub
Nickolay Grebenshikov – Twitter
In his talk « Jive: the renovation of AsWing », Nickolay Grebenshikov speaks mainly about Jive. It's a cross-platform UI based on AsWing, and explain to people where it comes from and go to.
The second part is about his opinions about UI librairies : why it's important for a community. What features should it has. And making a small comparaison of HaxeUI, StablexUI and Jive.
Slides of the talk « Jive: the renovation of AsWing
Watch the video: