Jason O'Neil's speech at the world wide Haxe conference WWX2015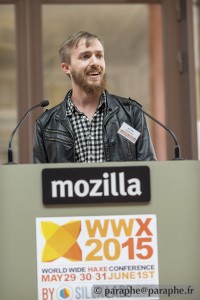 Jason O'Neil is the co-founder and developer of Today We Learned. He uses Haxe to make web apps for the education market.  After going « full time » with Haxe in 2013, Jason built the Sheridan School Management System for a network of Australian schools using Haxe and Ufront.  Now he's focusing on Today We Learned, a web and mobile app that guides teachers in a 60 second update to send to parents – and participated in Perth's first ever seed funded start-up accelerator.  In the Haxe ecosystem Jason is known for his work on Ufront, the Haxe website and Haxelib, as well as spending far too long answering questions on Stack Overflow.  When he's not programming in Haxe he's probably asleep, dreaming of macros within macros.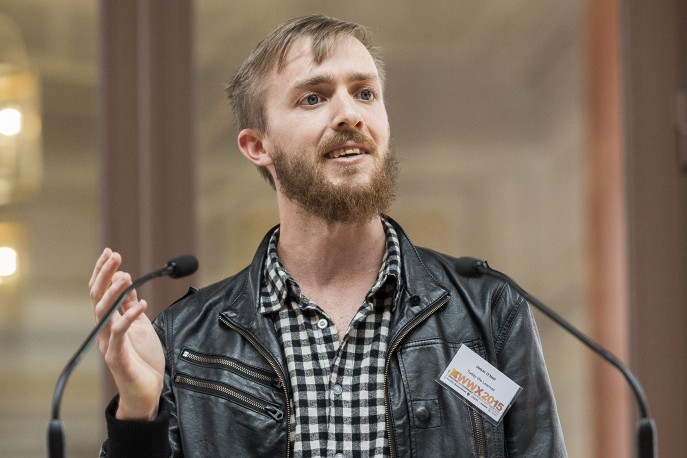 Jason O'Neil presents "Isomorphic Haxe: Using Ufront to build apps that work client side or server side":
Most web frameworks do their work on either the client or server. But most web-apps need a combination: server side rendering is great for a fast first page load, backward compatibility and search engine optimisation. And client side rendering makes the rest of the page loads feel instant, like a native app. Jason will show how Haxe and Ufront let you get the best of both worlds.
The presentation has been made on the website Ufront.net.
Watch the video:
Jason O'Neil: « Being part of the WWX Haxe conference this year was a real privilege. So many game-changing ideas, people working on great projects, and great ideas buzzing around the different groups of delegates.  I definitely left feeling inspired with some of the projects that were shared, ideas that were explored, and people that I got to meet with.  Lots of fun, lots of code, not much sleep.  Can't wait for WWX 2016. »
@jasonaoneil on stage for Isomorphic #Haxe :Using Ufront #WWX2015.

— Silex Labs (@silexlabs) May 30, 2015
@jasonaoneil is up!!! #wwx2015 pic.twitter.com/BJXffmQeKU

— josefiene pertosa (@Fiene_P) May 30, 2015
UFront looks pretty cool — client/server web framework stuff written in Haxe.http://t.co/xe0BHXysum#WWX2015

— f'(Lars Doucet) (@larsiusprime) May 30, 2015
I'm impressed by so much documentation http://t.co/DMRn9nkgxX! Great job @jasonaoneil #wwx2015

— Jb Richardet (@JbIPS) May 30, 2015
@JbIPS @jasonaoneil i also liked the theme of it 🙂 very nice presentation, i look forward to test ufront #wwx2015

— Mark Knol (@mknol) May 30, 2015
Great work 😀 for sure #Ufront #js optimisation front clients server #WWX2015 https://t.co/gkwjM7TXhw

— Silex Labs (@silexlabs) May 30, 2015
#WWX2015 video: "isomorphic #haxe: using #Ufront…" by @jasonaoneil http://t.co/9OgDbPMAhq #css3 #webdev #web #html5 pic.twitter.com/mBveEQO0yg

— Silex Labs (@silexlabs) July 29, 2015