Developer Economics Survey 2014
25 October 2013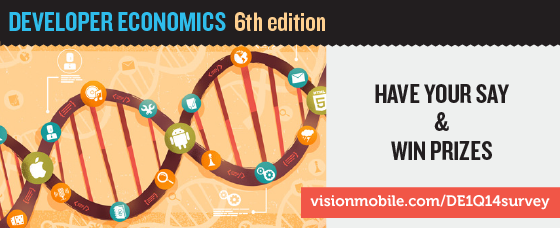 Dear Silex Labs members,
Here is a way to contribute once again, to help the non profit organization you love!
Silex Labs and Vision Mobile are presenting you the Developer Economics survey for 2014 edition. Vision Mobile is a company which is doing some of the best reports about mobile industry and cross-platform technologies.
If you want to be part of this essential report or simply want to contribute as community member, fill this survey.
And if you are a Haxe user, it can be a good way to support this innovative language.
And last but not the least, you can win prices !
The link to the survey is available
---
Developer Economics is the de-facto research on the app economy and developer ecosystems by VisionMobile, based on the largest, most global developer surveys. The new Developer Economics survey has just been launched, tracking platform Mindshare, monetisation by platform and revenue models, use of tools and investigating opportunities and challenges in the developer ecosystem.
This 10-minute survey is aimed at app developers. Survey respondents can enter a draw to claim great prizes, including an iPhone, a Galaxy S4, two Lumia 920 handsets, as well as more cool gadgets. Each of the respondents can claim a free, 1-month subscription to Bugsense's crash reporting tool.
Also - survey respondents can get access to the Developer Benchmark Scorecards, i.e. a visualisation that allows respondents to benchmark themselves in terms of revenues & revenue models, platforms used, app categories and use of tools versus other developers in the region, based on their responses to the survey (opt-in to the developer panel required).
Finally, the survey results will become publicly available as a free download - so that respondents can get a sense of what the latest trends are and what other developers have to say.
---
Previous editions
Developer Economics 2013:
Developer Economics 2012:
More informations about the previous Vision Mobile reports.Cross-Platform Developer Tools 2012 where Haxe is highlighted: