The client generator allows you to generate fully functional client projects including:
service classes that expose your service methods so that you can call them easily.
a GUI class to access each service. These are great to make back offices.
project files to wrap them all and hit the ground running.
Just choose your technology, click 'generate', and you'll download a zip with a fully functional project. For interpreted languages such as HTML, you'll see a link at the bottom of the page where you can try your project directly.
For more details on available generators, see here.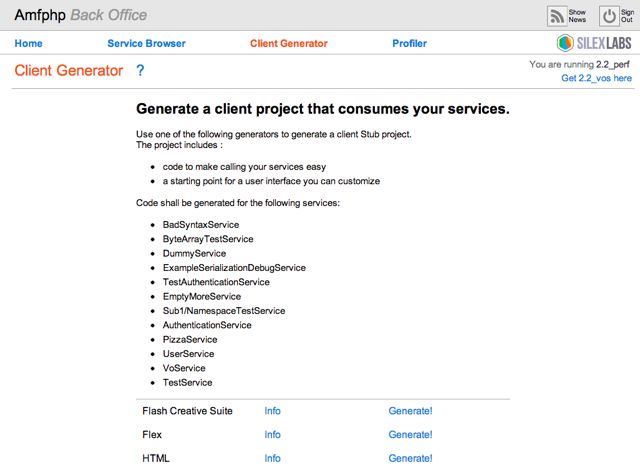 Please note that the Back Office relies on the AmfphpAuthentication, AmfphpJson,  AmfphpDiscovery, and AmfphpMonitor plugins, so it won't fully work without them. AmfphpMonitor is only for the Profiler. AmfphpAuthentication is needed only to control access. AmfphpJson and AmfphpDiscovery are needed by the Service Browser and the Client Generator. These plugins are all enabled by default, so you should not need to edit their configuration to get things working.